Once you select the generator location you will need to run water to the unit.
Do not use galvanized fittings.  Use copper or brass fittings only!
Do not use PEX or PVC tubing.
Do not plumb the pressure relief valve into the steam line.  Plumbing the pressure relief valve into the steam line can be hazardous, should the steam outlet be capped off or obstructed.
The water inlet uses 3/8" flex hose on ProSeries.  For other models, use 3/8" NPT line.
Place the Smitty Pan under the unit.  Plumb the 3/4" drain connection on pan to an approved drain (Smitty Pan included with PRO Series - plumber supplied otherwise). Smitty Pan must be installed in all generator installations.  All plumbing shall be performed by a qualified licensed plumber and in accordance with applicable national and local codes. 


Connect a tee to the cold water line.


Install copper pipe to the tee.


Install a brass shut off valve in the water inlet line in an accessible area prior to the brass union and recommended in-line water filter.


Insert water line debris screen (included) to the water inlet on the generator.



Before making the water connection, flush the water line into a five-gallon pail to remove any silt or other materials that may be in the water inlet line.




Make the final connection but do NOT turn the water on yet.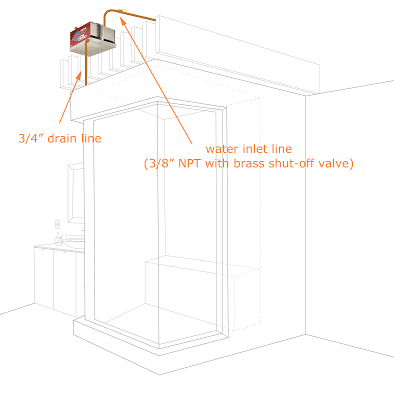 For illustrative purposes only. Consult with qualified professional for steam room construction details.