Now you will need to decide on the steamhead placement in the shower so you can run the steam line from the generator to the steamhead.  There are couple of things you need to know about the placement of the steam head and steam line itself.
Do not install any valve in steam line.  Flow of steam must be unobstructed.
Do not plumb any traps in the steam line.
The steam outlet on the generator has a 1/2" brass union for easy installation.


Use 1⁄2" brass pipe or copper tubing from unit to steam head as permitted by codes. For units 20kW and above 3/4" steam line is required.


The steam line can run up and then down, once; or horizontal; but never run down and then up.  If it does, a steam trap will be produced at the low point blocking the flow of steam.


Insulate the steam outlet piping if the piping run exceeds 10 feet or is exposed to cold areas. Use steam rated insulation.


Pitch/angle steam lines back towards generator before any up or down turns - pitch/angle towards steam room after any up or down and avoid perfectly level plumbed lines.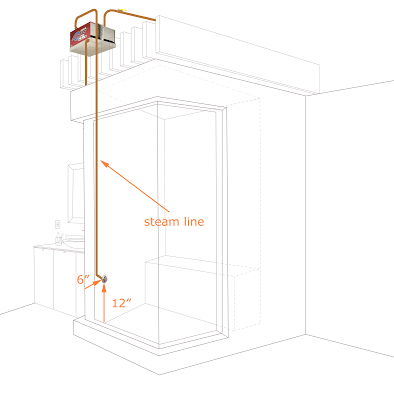 For illustrative purposes only. Consult with qualified professional for steam room construction details.
---
Steamhead
Do not install the steamhead near the seating area or the user.
Do not forget to install the steamhead rough in!
Install the steamhead 12" from the floor or bathtub rim and 6" from any corner.


Steamhead is to be mounted as far as possible from typical bathing position (seated or standing).


You will need to drill 2-1/2" diameter hole in the shower wall for the steamhead rough-in.


Install the steamhead as far from the in-shower controller as possible.


For detail installation instructions of the steamhead please see Steamhead Installation section in ThermaSol Installation and Product Guide