Tools and Materials
Parts Enclosed with the generator:
NoTouch steam head housing
Steam generator
Smitty pan (included with PRO Series only)
50 foot control data cable
Installation instructions & warranty info
Static cling warning label
In-line water screen kit
Materials Needed:
Brass ball valve (for water supply shut-off)
Pipe compound
Copper or brass fittings & nipples (sizes and quantities per instructions)
In-line water filter (recommended)
Wire (sizes and quantities per instructions)
Copper tube or pipe
Wire cap nuts
Flex conduit (for units 12kW and above)
Brass or copper tee connection and plug
Silicone
Smitty pan (inlcuded with PRO Series only)
Other materials as required
Tools Needed:
Pipe wrench
Tubing cutter
Wire cutters or wire strippers
Adjustable wrench
Screwdriver (phillips and regular)
Solder and Flux
1-1/16" masonry drill bit
2-1/2" hole saw for NoTouch steam head
Drill motor
Propane torch
Other tools as required
---
Sizing or double checking the unit specified.
If you are installing the unit or thinking of adding one on your next project, you will need to make sure the unit is sized properly.
Calculate the shower area (Length x Width x Height = Cubic Feet) and confirm the ceiling height does not exceed 8 feet.  The set of numbers in the generator model number represents the maximum capacity.  If the ceiling height exceeds 8 feet in height, specify next biggest generator for every foot above 8 feet (ceiling not to exceed 10 feet in height).
Example: Generator model PRO-240 will be sufficient up to 240 cubic feet (with a ceiling not exceeding 8 feet in height).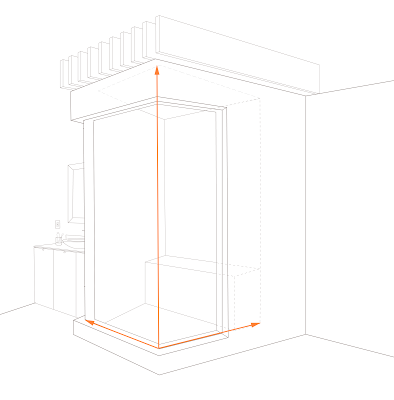 For illustrative purposes only. Consult with qualified professional for steam room construction details.
---
Electrical Wiring
The size of the shower will determine the size of the generator.  The size of the generator will determine electrical requirements. 
All the electrical wiring must be done per National/Local Electrical Codes.


Run 240V Power source to the generator.
Use copper wire only.


Wire sizes recommended by NEC (2002 Version).  Minimum wire temperature rating 90°C. Type THHN.


Each generator should be wired to their own separate breaker.


Turn off all electricity to the working area at the main breaker panel!
Electrical Requirements per generator: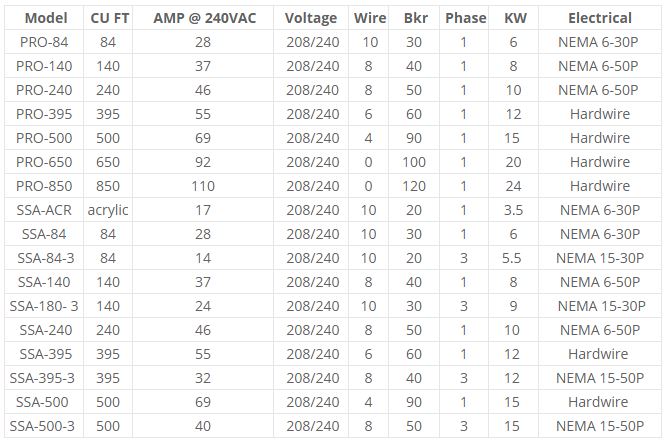 ThermaSol requires that a licensed electrician perform all electrical work.