Warning: IT IS IMPORTANT THAT NO ONE BE INSIDE THE SHOWER
ENCLOSURE DURING THE POWERFLUSH CLEANING CYCLE. IT IS ALSO
IMPORTANT THAT THE ENCLOSURE DOOR BE CLOSED DURING THIS CYCLE.

Locate the steam generator
On the top of the unit you will see a ball valve handle with "PowerFlush" on it.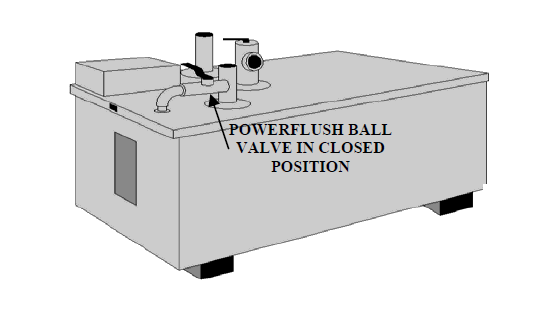 Go back to the steam control and turn on the steam
Set timer to 45 minutes
Go back to the steam generator turn the "PowerFlush" handle to OPEN position
Wait for about 5-7 minutes
Turn the "PowerFlush" handle to CLOSE pposition
Allow the steam to continue to finish the 45 minute session