Your steam generator has a cleaning feature that is called PowerFlush. This cycle is designed to break up any calcium and/or sediment that may collect inside of your generator and can cause the unit to experience water blockage and certain parts to wear out. ThermaSol recommends that you perform a Power Flush cycle at least once a month to extend the life of your generator. Your generator will require a PowerFlush to be ran after 1000 minutes or 16.66 hours of usage. You will see the following pattern of lights on your control: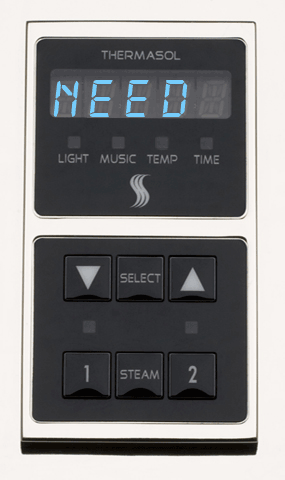 WARNING: IT IS IMPORTANT THAT NO ONE BE INSIDE SHOWER ENCLOSURE DURING THE POWERFLUSH CLEANING CYCLE
ALSO MAKE SURE TO CLOSE THE ENCLOSURE DOOR DURING THE CYCLE
Click Here to see the instructions on How-To start PowerFlush.