These guides will either resolve the issue or pinpoint the cause of the error. Some of the steps may require licensed electrician or plumber. Please do not attempt if you are not comfortable with it.
If you require additional assistance, please Submit a request, chat with us or contact ThermaSol Technical Support at 800-776-0711 and any one of our advisers will be happy to assist you with additional support.
Error 3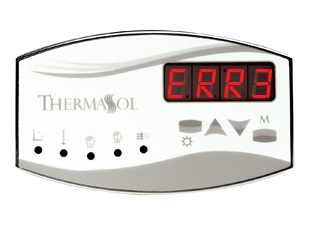 When a button is held longer than 10 - 15 seconds it will cause the control to think that the button is stuck. 

The Stuck Button error can also happen occur due to repeated use and on occasion could wear out the button. 
Reset the breaker to clear the error if control goes back to the stuck button error please 
Submit a request
.